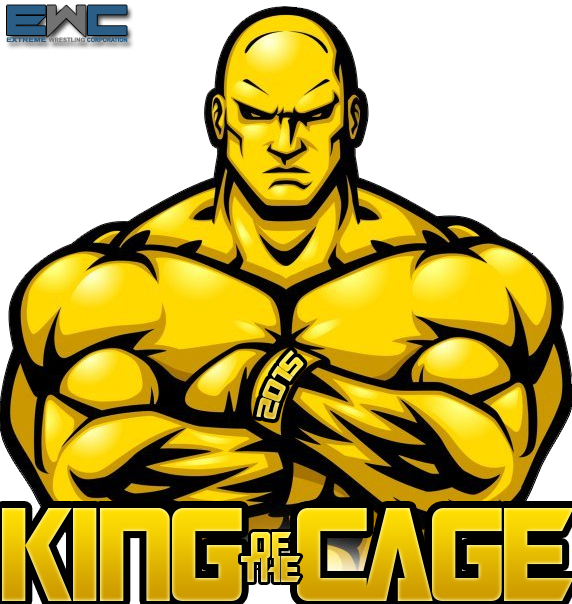 KING OF THE CAGE '15Â 
– Final Takes Place November 15th 2015 at the Air Canada Centre in Toronto, Ontario –
KING OF THE CAGE is a professional wrestling single-elimination tournament hosted by the Extreme Wrestling Corporation. Since 1999, the tournament has been produced as a pay-per-view event. The KING OF THE CAGE is an event in which up-to sixty four wrestlers wrestled in a one-on-one single elimination bracket. When a wrestler wins a match in the bracket, they advance to take on another wrestler that has also won.
The winner of the final match is officially crowned the KING OF THE CAGE.
KING OF THE CAGE is often the most looked forward to event by wrestling fans and in recent years is one of the most watched events in all of pay-per-view.
This years KING OF THE CAGE 2015 event will follow the same format as KING OF THE CAGE 2009. It will be open to any and all wrestlers from any federation (or Free Agency). It will be a Global Tournament to determine who truly the KING of the Wrestling World is.
The tournament takes place all in one day and will air LIVE on November 15th 2015 at 10PM CSTÂ (Subject to change). The entire tournament will take place in one day, with a 2 role-play limit (no word limits). You MUST write 2 ROLE-PLAYS or you will not win.
HOW DO YOU DETERMINE WHO FIGHTS WHO?
Round One Wrestlers will be seeded at random.
WHO CAN JOIN THE TOURNAMENT?
In short: ANY ONE! This event is open to ANY Wrestler from ANY Federation in the World. It is also open to independent wrestlers as well. You do not have to be a part of the hosting site (EWC) or any other federation to compete in this tournament.
WHAT DOES THE WINNER GET?
The Winner of the KING OF THE CAGE will receive the KING OF THE CAGE title belt and $1,000,000.00 CDN cash. If they represent a federation, then that federation will also receive a championship banner.
THE WINNING HANDLER GETS A PRIZE TOO!!!!
The Handler of the Winning Wrestler will also take home a prize -> $100.00 CDN. The $100.00 will be awarded within seven days of the airing of KING OF THE CAGE and will be transferred via PayPal. Second place will get $50 CDN and Third place will get $25 CDN.
WHO VOTES?
The EWC Staff, along with volunteer Staff from the Participating Federations and Affiliates will be voting
HOW DO I VOLUNTEER TO VOTE?
Just sign up with an account (if you haven't already) and send a PM to President Mac on the EWC Forums requesting to be a voter
HOW ARE THE ROLE-PLAYS JUDGED?
Since there are several voters from several different federations, everyone has a different perspective on what they like/dislike in a promo. The score card takes several factors into account and grades each role-play on the following:
Yes, it is possible (and has been done many times in EWC) for someone to write an 800 word promo and successfully defeat someone who wrote 3,000 or more words. It's not about the word count, it's about making the words count.
– Relevancy/Argument (1-35)
Relevancy is simple. Did you talk about your match or story-line or successfully advance your character in a meaningful way. Ultimately, your case for winning has to make sense. We look for Opponent Relevance, Match Relevance, Valid Points and Facts, awarding you points for each of those categories. Most feds just want you to "talk about your opponent" but anyone can do that. Here, we want to see that you've done your homework and really made a case for why your character is going to win.
– Entertainment / Creativity (1-35)
Is it enjoyable and interesting or does it go on and on and on? Are you creative or is it dull and boring? The more we enjoy your role play, the higher the score. Breaking the mold and producing something different will certainly help your chances.
– Flow (1-30)
Did the role play flow well? Was I able to follow along or did you lose me? Spelling, Punctuation, Sentence Structure and Vocabulary are all categories that also get graded in this section.
TOTAL SCORE (1-100)
Relevancy + Creativity + Flow
RP LIMITS (YOU MUST WRITE 2)
ROLE PLAY #1 – Is for ROUND 1 ONLY. 
– This first role-play should be solely focused on your first opponent. The Second role-play won't matter if you cannot beat the first person you face. So don't take this first role-play lightly. You need to make it out of the first round in order for us to even look at the second rp.
ROLE PLAY # 2 – Is for ROUND 2 & BEYOND.
– This Second and FINAL role-play should be designed to focus on Round 2 and beyond. If you successfully make it out of Round 1, this Second Role-play will be what determines if you win the whole tournament or not. Winning the tournament is NOT based on a combination of both role-plays. So plan these out the best you can
CUT OFF DATE TO JOIN
The cut-off date to join this tournament is OCTOBER 17TH 2015 @ 11:59PM CST
HOW MANY WRESTLERS CAN THE TOURNAMENT HOLD?
In 2012 we had 64 sign up. However I have no problem having more or less. We will see where we are at on the 17th of October and go from there. I'd like to have a minimum of 30 and a max of about 100. All depends on the demand of this years tournament
HOW DO I JOIN THE TOURNAMENT?
You need to do TWO things to get accepted into the tournament. First, you will REPLY to this thread with your Wrestlers Full Name and the Federation you are representing (if you are representing one). Then second, you will go HERE and fill out/post the application. Once you have done both, you are AUTOMATICALLY entered to compete.
CAN YOU JOIN AS MORE THEN ONE WRESTLER?
If you can handle it, then sure. But please use a different account for each Wrestler. Do NOT sign up as multiple entrants with the same user account. We won't accept them. This is to YOUR benefit. The more organized YOU are the better and easier it is for the voters to vote properly.
IF I JOIN KING OF THE CAGE, DO I NEED TO ALSO JOIN THE EWC?
Oh gosh no. There is no obligation at all, and we wont pester you to join either. However by all means take full advantage of being active on the forums. We are excited to have you as guests. Should you decide at any point to join the EWC, then that is awesome. We are happy to have you.
WHO IS PUTTING UP THE MONEY? HOW CAN I BE SURE I'LL BE PAID?
I am putting the full amount up myself (President Mac). So that's a total of $175CDN being paid out in this years tournament. Should you wish to help out or should you wish to INCREASE the winning pot, then by all means you can send donations to us. The donation button can be found on the left hand side of the forums at the bottom (when viewed in Desktop mode). Please specifically mention what the donation is for (1st, 2nd, 3rd, to be divided equally, to help cover the $175 etc) All winnings are paid out via pay-pal, so as long as you have an account, you will be paid. If you have questions about my ability to keep my word, simply ask around.
WHEN WILL THE CARD BE POSTED
The card will be posted on October 19th 2015.
WHEN CAN I START ROLE-PLAYING?
Immediately after the Card goes up on the 19th, you can start
WHAT ARE THE ROLE-PLAY DEADLINES?
There are TWO role-play deadlines. Once the Card goes up on the 19th, you will have approximately 24 days until the Final Role-play Deadline, which is Wednesday November 11th @ 11:59PM CST. HOWEVER the FIRST Role-play MUST be handed in no later than Wednesday November 4th @ 11:59PM CST. So you will have 17 days to write & post the FIRST RP and a total of 24 Days to write & post the SECOND RP.
So to re-cap:
ROLE-PLAY #1

– Due Wednesday

November 4th

@ 11:59PM CST [POST HERE]
ROLE-PLAY #2

– Due Wednesday

November 11th

@ 11:59PM CST [POST HERE]

You MUST write a FIRST Role-Play in order to have a chance to win Round 1 and you MUST write a SECOND Role-Play in order to have a chance to win the entire tournament. There are no word limits.
I HAVE A QUESTION THAT ISN'T ANSWERED ON HERE
Simply send me a message and I will do my best to answer in a timely fashion.
---
If you want in on this year's KING OF THE CAGE Tournament
Thanks for rating this! Now tell the world how you feel via Twitter.
How does this post make you feel?
The following two tabs change content below.