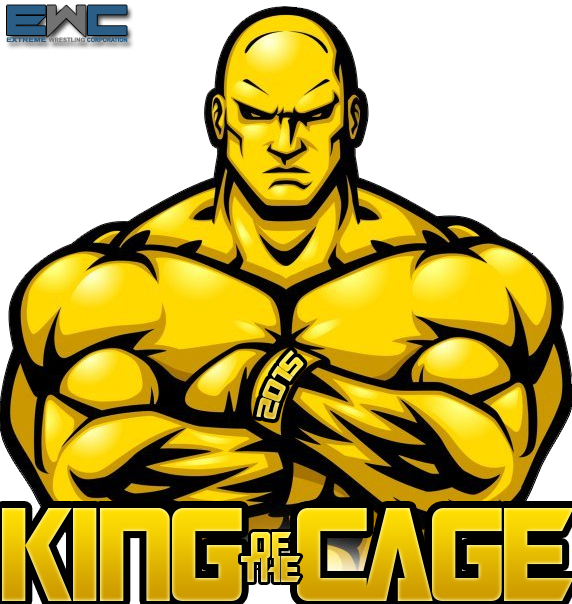 The Extreme Wrestling Corporation presents
KING OF THE CAGE 2015
Brought to you by EWC, UTA, Under Armour, Sony and Dr Pepper

NOVEMBER 15TH 2015
Live from the Air Canada Centre in Toronto Ontario
Tickets available at the venue box office, the official EWC website & toll free: 1-800-EXTREME
Ticket prices (in USD): 
$120, $60, $45, $30, $25, $20, $15
Prices do not include service charges or facility fees
Please Send formatted segments to President Mac
---
---
ROLE-PLAY DEADLINES & INFO

ROLE-PLAY #1

РDue Saturday 

October 31st

@ 11:59PM CST [POST HERE]
ROLE-PLAY #2

РDue Saturday 

November 7th

@ 11:59PM CST [POST HERE]
You MUST write a FIRST Role-Play in order to have a chance to win Round 1
AND
you MUST write a SECOND Role-Play in order to have a chance to win the entire tournament.
There are no word limits
ROLE-PLAY #1
The FIRST role-play will be a head to head role-play against your first round opponent.
Only the winners of each round 1 match will move onto the next rounds of the tournament
ROLE-PLAY #2
Assume you have won your first match, and write the second rp directed at the rest of the tournament. If you do not win a match in round 1, we will not be reading your second role-play. Even if you wrote the absolute best role-play, we will not read it and it will not count unless your first role-play was good enough to secure you a win in round 1.
---
---
ROUND ONE MATCHES
Mark Storm (EWC) Vs Arturia Pendragon (CWA)
Cyrus Riddle (4CW / Boardwalk) Vs Greg Ward (CWF)
James Dawes (F/A) Vs Marshall Young (EWC)
Matt Auclair (SCW) Vs Brandon Garcia (F/A)
Grime (CWA) Vs Nina Stokes (Fight One)
Joanna Jane Tarzanna (F/A) Vs Paul Roberts (F/A)
Michael Wilson (CWF) Vs Ami Syco (uXw)
Alexis Morrison (F/A) Vs Luke Wolfe (EWC)
Dorn (UWF) Vs Tony Miranda (F/A)
Stacy Kissinger (SCW) Vs Jesse Styles (F/A)
Elsie Miller (F/A) Vs Dustin James Holt (GIW)
Daniel Maverick (WWU) Vs Stacy Jones (VoW)
Chris Callum (GIW) Vs Eliza Lovecraft (F/A)
Muhammad Rushdi (MWA) Vs Aleksander Sveen (F/A)
Rosetta Stone (FSW) Vs Emevcas Stastias (Red Line)
Miss Jon (IWC) Vs Johnny Bonecrusher (EWC / H3CW)
Simon Lyman (SCW) Vs Brittany Lohan (F/A)
Sean Lorrenza (EWC) Vs Jason Zero (SCW)
Ryder Blade (VoW) Vs Corey X (XCW)
Jon Kellar (EWC / NJFC) Vs Tyler Storm (VoW)
James Kash (F/A) Vs Dante McCaffery (SCW)
Jacqui M (Seishin) Vs Bryan Williams (4CW / Boardwalk)
John Blade (EWC) Vs Rick O'Shea (F/A)
Noah Hanson (HOW) Vs Metal Black (EWC)
---
---
FULL LISTING OF
FEDERATIONS
FREE AGENTS
Joanna Jane Tarzanna
Tony Miranda
Eliza Lovecraft
Brandon Garcia
Brittany Lohan
James Dawes
Alexis Morrison
Jesse Styles
James Kash
Elsie Miller
Aleksander Sveen
Rick O'Shea
Paul Roberts
EXTREME WRESTLING CORPORATION (EWC)
Jon Kellar
John Blade
Metal Black
Mark Storm
Luke Wolfe
Sean Lorrenza
Marshall Young
Johnny Bonecrusher
NEW JAPAN FIGHTING CHAMPIONSHIP (NJFC)
Jon Kellar
VISIONARIES OF WRESTLING (VoW)
Tyler Storm
Ryder Blade
Stacy Jones
GALVESTON ISLAND WRESTLING (GIW)
Chris Callum
Dustin James Holt
WORLD WRESTLING UNITED (WWU)
Daniel MavericK

CANADIAN WRESTLING ALLIANCE (CWA)
Arturia Pendragon
Grime
4CW
Cyrus Riddle
Bryan Williams
BOARDWALK WRESTLING
Cyrus Riddle
Bryan Williams
FIGHT ONE WRESTLING
Nina Stokes
CHAMPIONSHIP WRESTLING FEDERATION (CWF)
Michael Wilson
Greg Ward
RED LINE WRESTLING
Emevcas Stastias
FUTURE STARS OF WRESTLING (FSW)
Rosetta Stone
HIGH OCTANE WRESTLING
Noah Hanson
SUPREME CHAMPIONSHIP WRESTLING (SCW)
Jason Zero
Simon Lyman
Dante McCaffery
Stacy Kissinger
Matt Auclair
uXw
Ami Syco
XCW
Corey X
UNIVERSAL WRESTLING FEDERATION (UWF)
Dorn
MIDWEST WRESTLING ALLIANCE (MWA)
Muhammad Rushdi
SEISHIN
Jacqui M
INDEPENDENT WRESTLING CARTEL (IWC)
Miss Jon
HELDERS HOUSE OF HARDCORE CHAMPIONSHIP WRESTLING (H3CW)
Johnny Bonecrusher
---
---
ABOUT
KING OF THE CAGE '15 
– Final Takes Place November 15th 2015 at the Air Canada Centre in Toronto, Ontario –
KING OF THE CAGE is a professional wrestling single-elimination tournament hosted by the Extreme Wrestling Corporation. Since 1999, the tournament has been produced as a pay-per-view event. The KING OF THE CAGE is an event in which up-to sixty four wrestlers wrestled in a one-on-one single elimination bracket. When a wrestler wins a match in the bracket, they advance to take on another wrestler that has also won.
The winner of the final match is officially crowned the KING OF THE CAGE.
KING OF THE CAGE is often the most looked forward to event by wrestling fans and in recent years is one of the most watched events in all of pay-per-view.
This years KING OF THE CAGE 2015 event will follow the same format as KING OF THE CAGE 2009. It will be open to any and all wrestlers from any federation (or Free Agency). It will be a Global Tournament to determine who truly the KING of the Wrestling World is.
The tournament takes place all in one day and will air LIVE on November 15th 2015 at 11PM CST
You MUST write 2 ROLE-PLAYS or you will not win.
HOW DID WE DETERMINE WHO FIGHTS WHO?
Round One Wrestlers were seeded at complete random
WHAT DOES THE WINNER GET?
The Winner of the KING OF THE CAGE will receive the KING OF THE CAGE title belt and $1,000,000.00 cash.
If they represent a federation, then that federation will also receive a championship banner.
THE WINNING HANDLER GETS A PRIZE TOO!!!!
The Handler of the Winning Wrestler will also take home a minimum prize of -> $125.00 CDN.
The winning money will be awarded within seven days of the airing of KING OF THE CAGE and will be transferred via PayPal. Second place will get a minimum of $75 CDN and Third place will get a minimum of $50 CDN.
WHO VOTES?
The EWC Staff, along with volunteer Staff from the Participating Federations and Affiliates will be voting
HOW DO I VOLUNTEER TO VOTE?
Just sign up with an account (if you haven't already) and send a PM to President Mac requesting to be a voter
HOW ARE THE ROLE-PLAYS JUDGED?
Since there are several voters from several different federations, everyone has a different perspective on what they like/dislike in a promo. The score card takes several factors into account and grades each role-play on the following:
Yes, it is possible (and has been done many times in EWC) for someone to write an 800 word promo and successfully defeat someone who wrote 3,000 or more words. It's not about the word count, it's about making the words count.
– Relevancy/Argument (1-35)
Relevancy is simple. Did you talk about your match or story-line or successfully advance your character in a meaningful way. Ultimately, your case for winning has to make sense. We look for Opponent Relevance, Match Relevance, Valid Points and Facts, awarding you points for each of those categories. Most feds just want you to 'Äútalk about your opponent'ÄĚ but anyone can do that. Here, we want to see that you've done your homework and really made a case for why your character is going to win.
– Entertainment / Creativity (1-35)
Is it enjoyable and interesting or does it go on and on and on? Are you creative or is it dull and boring? The more we enjoy your role play, the higher the score. Breaking the mold and producing something different will certainly help your chances.
– Flow (1-30)
Did the role play flow well? Was I able to follow along or did you lose me? Spelling, Punctuation, Sentence Structure and Vocabulary are all categories that also get graded in this section.
TOTAL SCORE (1-100)
Relevancy + Creativity + Flow
RP LIMITS (YOU MUST WRITE 2)
ROLE PLAY #1 РIs for ROUND 1 ONLY. 
– This first role-play should be solely focused on your first opponent. The Second role-play won't matter if you cannot beat the first person you face. So don't take this first role-play lightly. You need to make it out of the first round in order for us to even look at the second rp.
ROLE PLAY # 2 – Is for ROUND 2 & BEYOND.
– This Second and FINAL role-play should be designed to focus on Round 2 and beyond. If you successfully make it out of Round 1, this Second Role-play will be what determines if you win the whole tournament or not. Winning the tournament is NOT based on a combination of both role-plays. So plan these out the best you can
WHEN CAN I START ROLE-PLAYING?
Immediately
WHAT ARE THE ROLE-PLAY DEADLINES?
There are TWO role-play deadlines. Once the Card goes up on the 16th, you will have approximately 23 days until the Final Role-play Deadline, which is Saturday November 7th @ 11:59PM CST. HOWEVER the FIRST Role-play MUST be handed in no later than Saturday October 31st @ 11:59PM CST. So you will have 16 days to write & post the FIRST RP and a total of 23 Days to write & post the SECOND RP.
So to re-cap:
ROLE-PLAY #1

РDue Saturday 

October 31st

@ 11:59PM CST [POST HERE]
ROLE-PLAY #2

РDue Saturday 

November 7th

@ 11:59PM CST [POST HERE]
You MUST write a FIRST Role-Play in order to have a chance to win Round 1 and you MUST write a SECOND Role-Play in order to have a chance to win the entire tournament. There are no word limits.
WHAT STYLE SHOULD WE WRITE IN ORDER TO APPEASE THE JUDGES?
Write the way you are most comfortable writing. It doesn't matter if it's 3000 words or 800 words. We don't judge based on how long a role-play is. Give us a backstory, or don't. Write straight shoot style, or don't. The only thing you should make sure to do, is spend at lease SOME time talking about your opponent or potential opponents. Read up on the profiles, get a basic understanding, this can only help. One of the areas we judge is "relevance", so you would do well to spend some time talking about the actual match, the event and your opponent(s). We know and understand that the second role-play is much tougher to write as you have no idea who you are facing next, but guess what? 24 other people are in the exact same boat as you with no advantages. So just be you. Write in a way that you feel most comfortable. DO NOT – DO NOT – DO NOT – think for a second that simply posting a 10,000 word role-play will get you a victory.
It's NOT about the word count, it's about MAKING the WORDS count.
If you are tied on the score card, but said it just as good but in fewer words, then chances are you will win some key points on the score card.
I HAVE A QUESTION THAT ISN'T ANSWERED ON HERE
Simply send me (President Mac) a message and I will do my best to answer in a timely fashion.
---
---
Results will be posted Sunday NOVEMBER 15TH @ 11:00 PM CST
© THE EXTREME WRESTLING CORPORATION 2015
Thanks for rating this! Now tell the world how you feel via Twitter.
How does this post make you feel?
The following two tabs change content below.