We are kicking off a new subsection of eWscene Columns & Opinions for these new feds in order to help them get exposure. The new PREVIEW section, will take a quick look at new feds that have caught our attention, and may catch yours. Usually this will be important information like the link and open date, and will also include information from the fed's "About" section if available.
—————————
PREVAIL Wrestling
http://prevailwrestling.boards.net/
OWNER: Joseph Belfort
OPENED: June 2013
TYPE: Roleplay /Bi-weekly
Background Information
PREVAIL Wrestling (often styled as PW, or simply just PREVAIL) is an independent wrestling promotion based out of the Pacific Northwestern region of the United States. To be more specific our headquarters are based out of Fresno, California. PREVAIL is owned by Joseph Belfort whom was a professional wrestler himself back in the mid to late nineties and early two-thousands. Belfort suffered a career ending knee injury in the Spring of 2003 and was never heard from again until ten years later and he brought PREVAIL Wrestling with him.
In terms of touring, PREVAIL Wrestling has mapped out the following major cities: Los Angeles, San Diego, Fresno, San Francisco, Oakland, Long Beach, Anaheim and San Jose, as well as small venues in between. Expansions into Oregon, Washington, the Canadian province of British Columbia are more than likely to happen but for now California will be the main stomping ground for PREVAIL.
Mission Statement
We strive to be one of the best e-federations out here with a positive and drama-free environment for all of our members. We also strive to encourage roleplayers from the most experienced to relatively new at any age to join PREVAIL and try out new ideas or just want a fresh start for a new character, gimmick, etc.
Events
PREVAIL is a bi-weekly e-fed which does not have a television deal, be it cable, network, satellite or syndication. Instead PREVAIL hold House Shows that will be taped in front of a live audience. After these shows are taped they will be available for purchase on our official website. House Shows will be to showcase talent, advance storylines and host the occasional championship match.
Supershows
PREVAIL does not hold pay-per-view events or even internet pay-per-view events. PREVAIL will be holding supershow events will be similar to our House Show DVD tapings but on a bigger scale. These supershows will be the ideal place to have high-profile matches and blowoff's to various feuds. However, due to our bi-weekly show schedule and bi-monthly supershow schedule some feud enders and title matches will happen on the House Show DVD tapings instead.
Championships
PREVAIL Wrestling only has two championships to date, which are: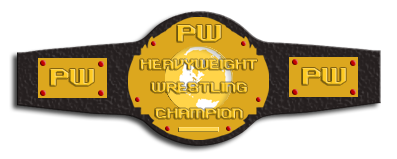 The PREVAIL Wrestling Heavyweight Championship, which is our most prestigious championship and our number one prize. The PREVAIL Championship will mostly be defended at our supershow events but on occasion this championship can and will be defended at House Show DVD Tapings.
The PREVAIL Wrestling Tag Team Championships will serve to be a major part of our promotions growth. PREVAIL will strive to make the Tag Team Championships the most decorated and most valuable Tag Team Championships in all of California and eventually the nation. These titles will be defended at all supershow events and every second or third House Show DVD Taping, depending on the current touring scheduling.
A third regional/national championship will be added in the near future but for now PREVAIL only has one singles championship and one tag team championship.
Closing Details
PREVAIL wants to be one of the best and most fun e-feds out here and to do that we need all of you who aren't afraid to try out a new federation with an owner whom most of you have never heard of. We are 110% driven to make this goal a reality so please try us out and see for yourself if PREVAIL Wrestling has the potential to become a great e-fed.Thank you for your time and reading this to get a better look and understanding into PREVAIL Wrestling.- Joseph Belfort.
Thanks for rating this! Now tell the world how you feel via Twitter.
How does this post make you feel?
The following two tabs change content below.